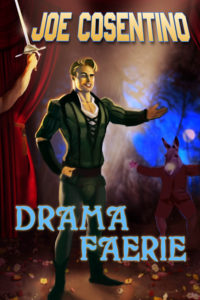 Ep:016: Joe Cosentino talks about his Nicky and Noah Series, and Drama Faerie, his latest release.
Drama Faerie, the 9th Nicky and Noah mystery, by Joe Cosentino:
It's summer at Treemeadow College's new Globe Theatre, where theatre professor Nicky Abbondanza is directing a musical production of A Midsummer Night's Dream co-starring his spouse, theatre professor Noah Oliver, their son Taavi, and their best friend and department head, Martin Anderson. With an all-male, skimpily dressed cast and a love potion gone wild, romance is in the starry night air. When hunky students and faculty in the production drop faster than their tunics and tights, Nicky and Noah will need to use their drama skills to figure out who is taking swordplay to the extreme before Nicky and Noah end up foiled in the forest. You will be applauding and shouting Bravo for Joe Cosentino's fast-paced, side-splittingly funny, edge-of-your-seat entertaining ninth novel in this delightful series. Take your seats. The curtain is going up on star-crossed young lovers, a faerie queen, an ass who is a great Bottom, and murder!
Links:
Web site
Facebook
Twitter
Amazon Author Page
Direct Link to Book
Justene's Review:
Bleeding Hearts by Josh Aterovis
About Joe Cosentino:
Joe was voted Favorite LGBT Mystery Contemporary Author of the Year by the readers of Divine Magazine for Drama Queen, the first Nicky and Noah mystery. He also wrote the other nine novels in the Nicky and Noah mystery series and many other LGBT-themed novels, which have received Favorite Book of the Month Awards and Rainbow Award Honorable Mentions. As an actor, Joe has appeared in principal acting roles in film, television, and theatre, opposite stars such as Bruce Willis, Rosie O'Donnell, Nathan Lane, Holland Taylor, and Jason Robards. He is currently Chair of the Department/Professor at a college in upstate New York, and he is happily married.