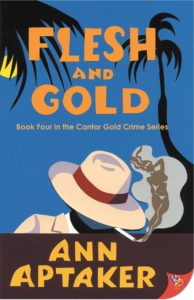 Ep:039 Ann Aptaker's "Cantor Gold" crime/mystery novels have won Lambda Literary and Goldie Awards. Her short stories have appeared in two editions of the crime anthology Fedora, Switchblade Magazine's Stiletto Heeled issue, and will be featured in the Mickey Finn crime anthology, releasing in  the Fall of 2020 from Down & Out Books. She is one of only six authors invited by Down & Out Books to provide a novella for the second season their crime series, Guns & Tacos, releasing in October, with another short story accepted to appear in The Black Cat Mystery Magazine. Her flash fiction, A Night In Town, appeared in the online zine Punk Soul Poet, and another flash fiction is featured in the Goldie winning anthology Our Happy Hours: LGBT Voices from the Gay Bars, released in 2017. Her next Cantor Gold book, Murder And Gold, will be released in Spring/Summer 2021 from Bywater Books.
Ann's knowledge of crime, criminals, and criminal investigation results from her work as a report writer for a private investigations firm in San Rafael, California. Her work at the firm introduced her to the motives, methods, and milieus of the perpetrators of crime as well as the motives and methods of crime's opposite numbers, law enforcement and the courts. This experience brings an authenticity to her stories and her characters.
In addition to her literary work, Ann had a long career as a curator and exhibition designer for galleries and museums across the country. She now writes full time.
Social Media Links:
Facebook: Ann Aptaker, Author   Twitter: @AnnAptaker   Instagram: ann_aptaker
Blog site: https://aaptaker.wordpress.com/
Book Sites:
Amazon
Bold Stroke Books
Current Book: FLESH AND GOLD– published by Bold Strokes Books
Next book: MURDER AND GOLD -to be released by Bywater Books Spring/Summer 2021